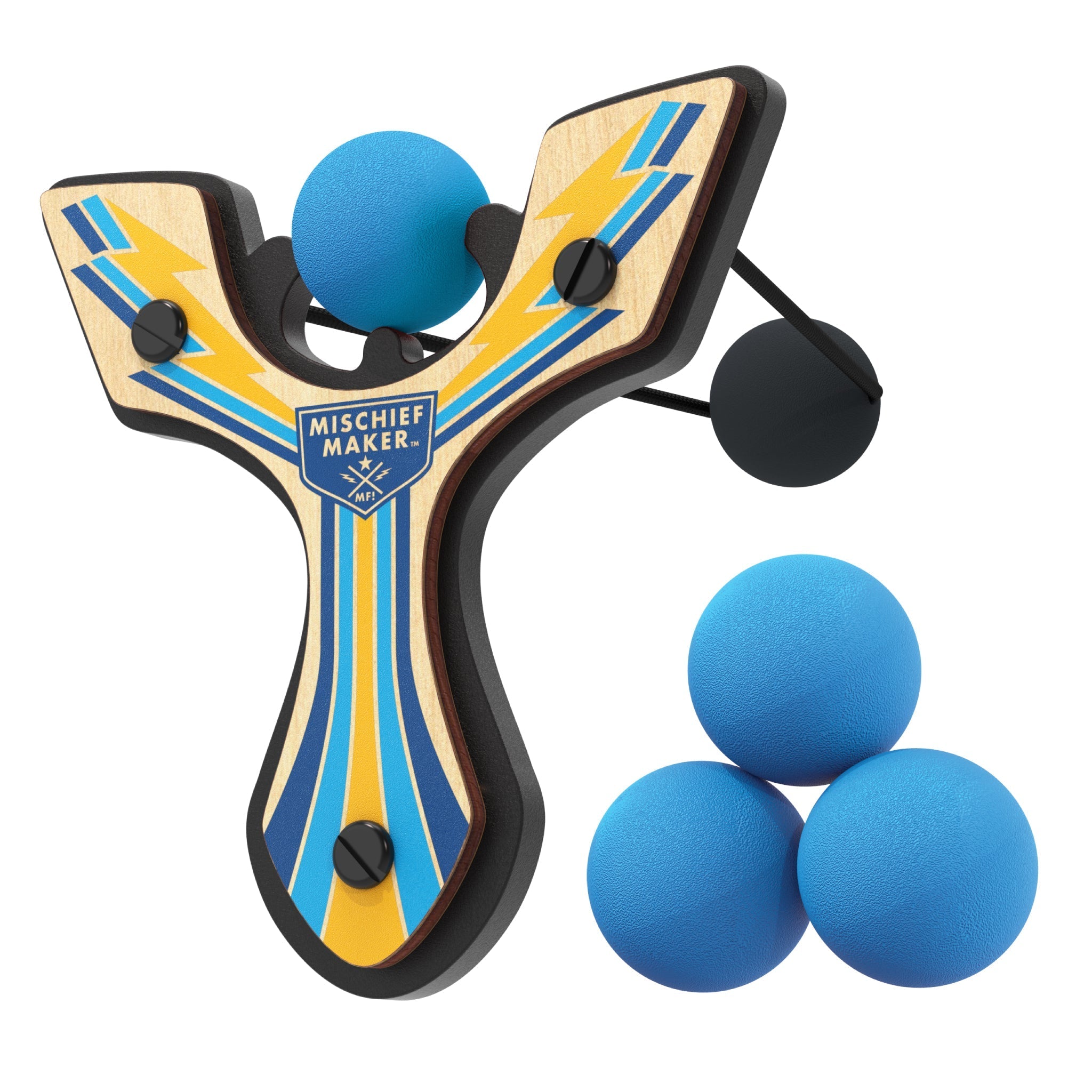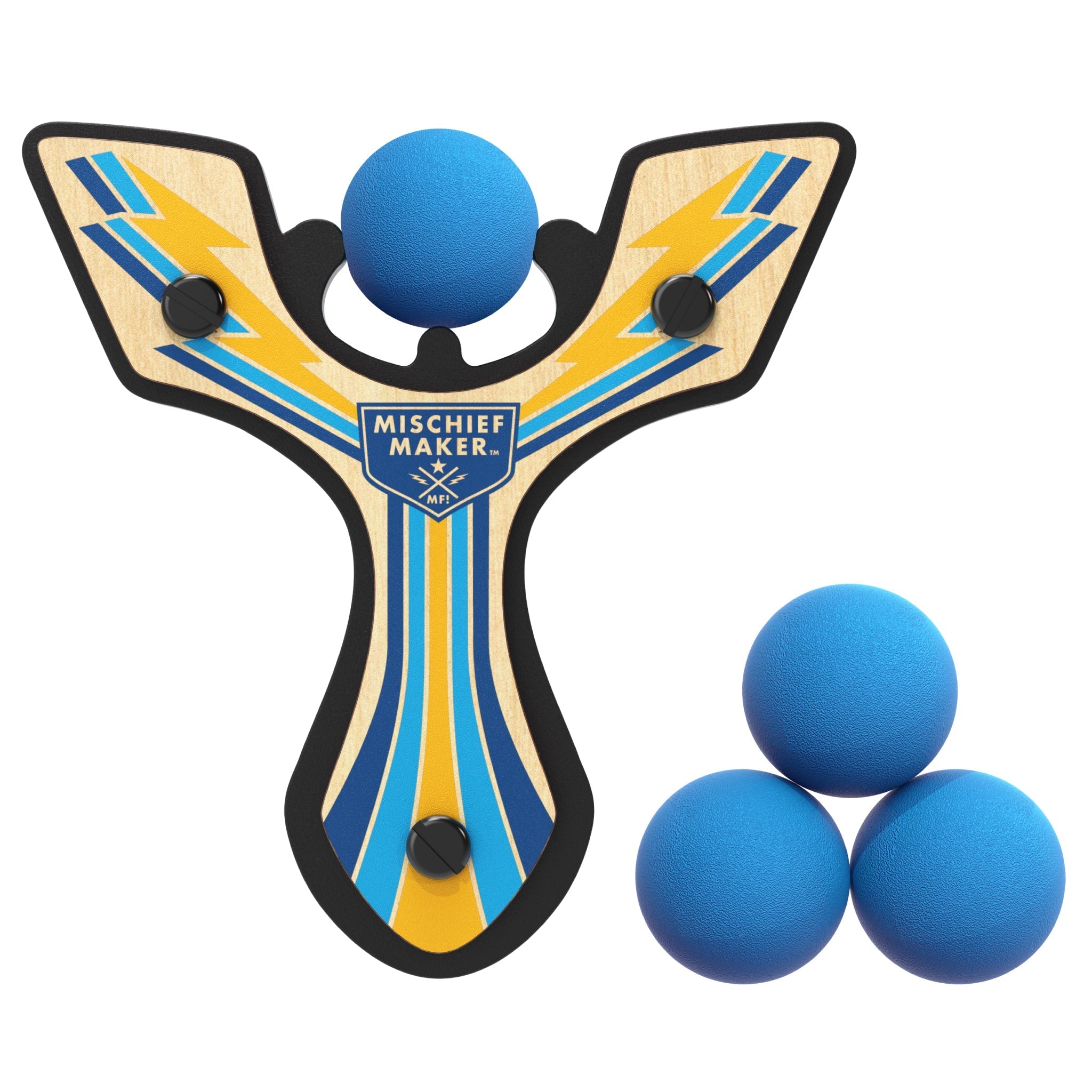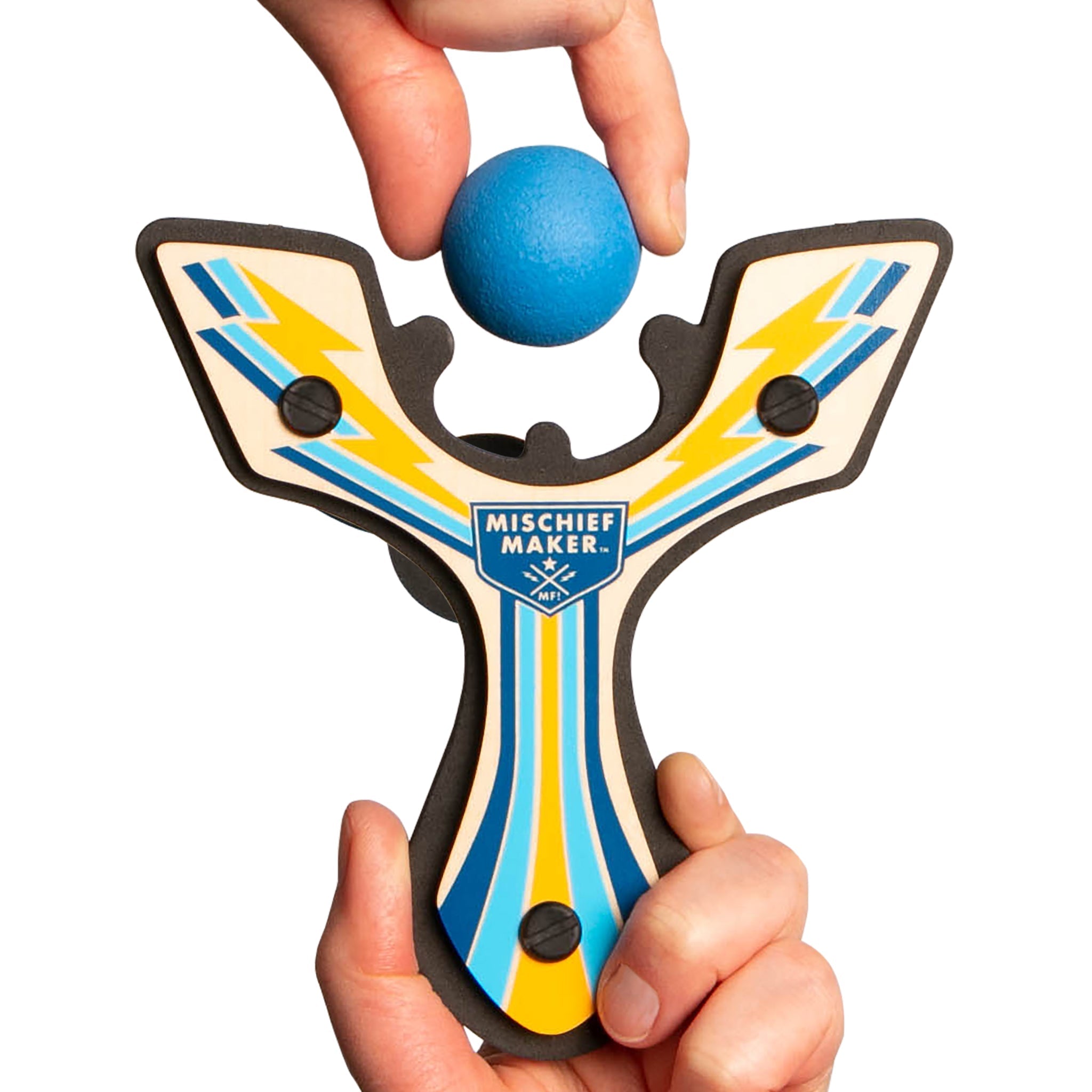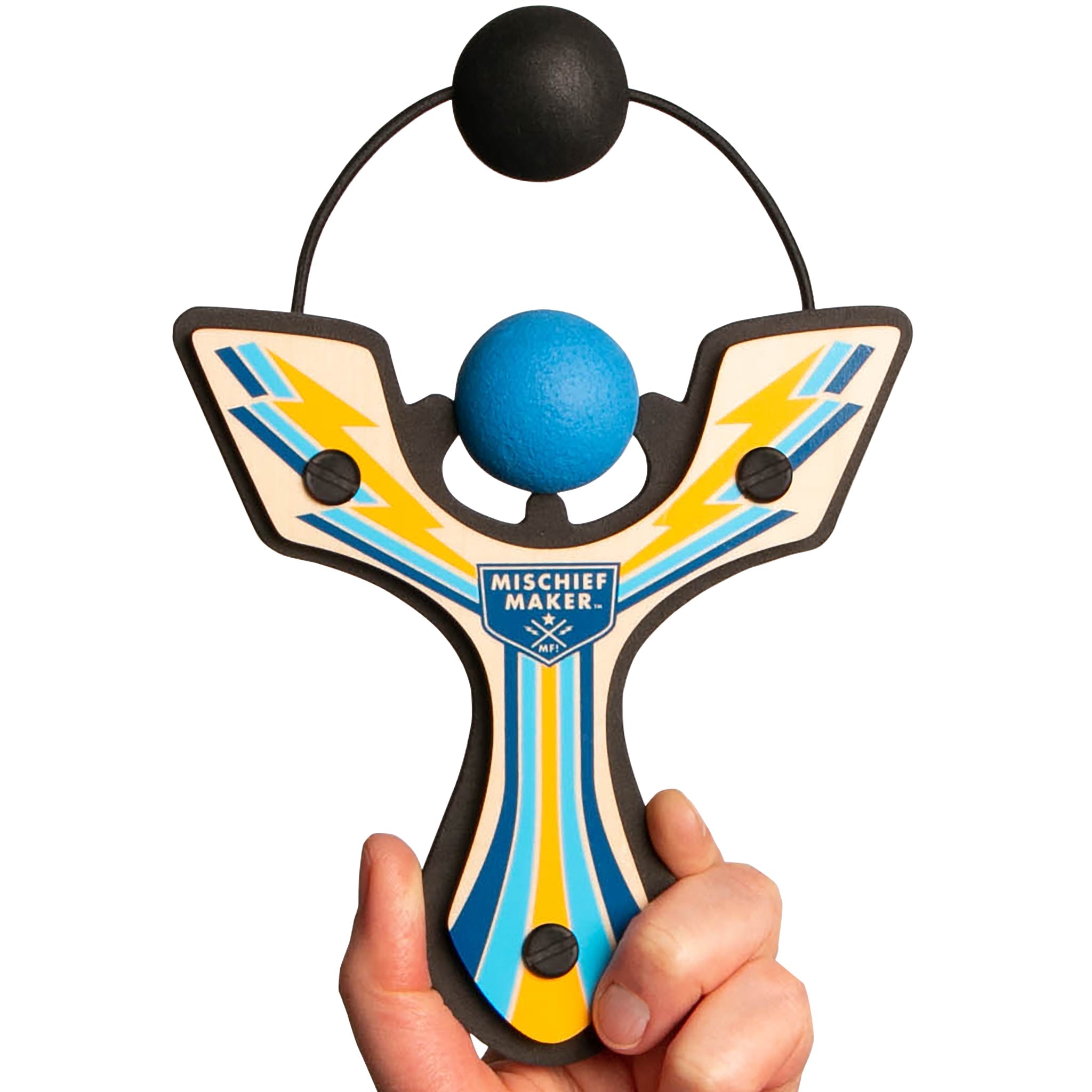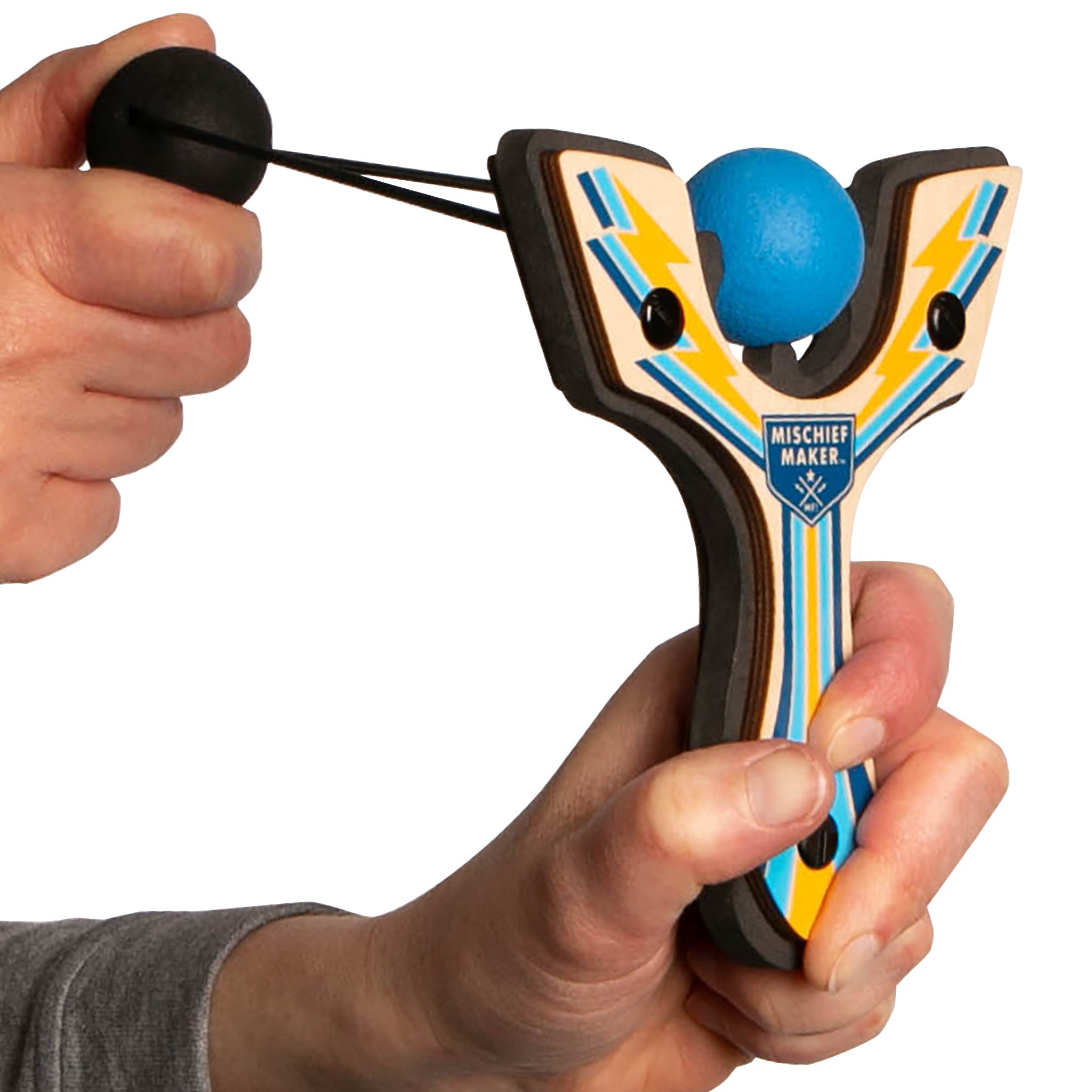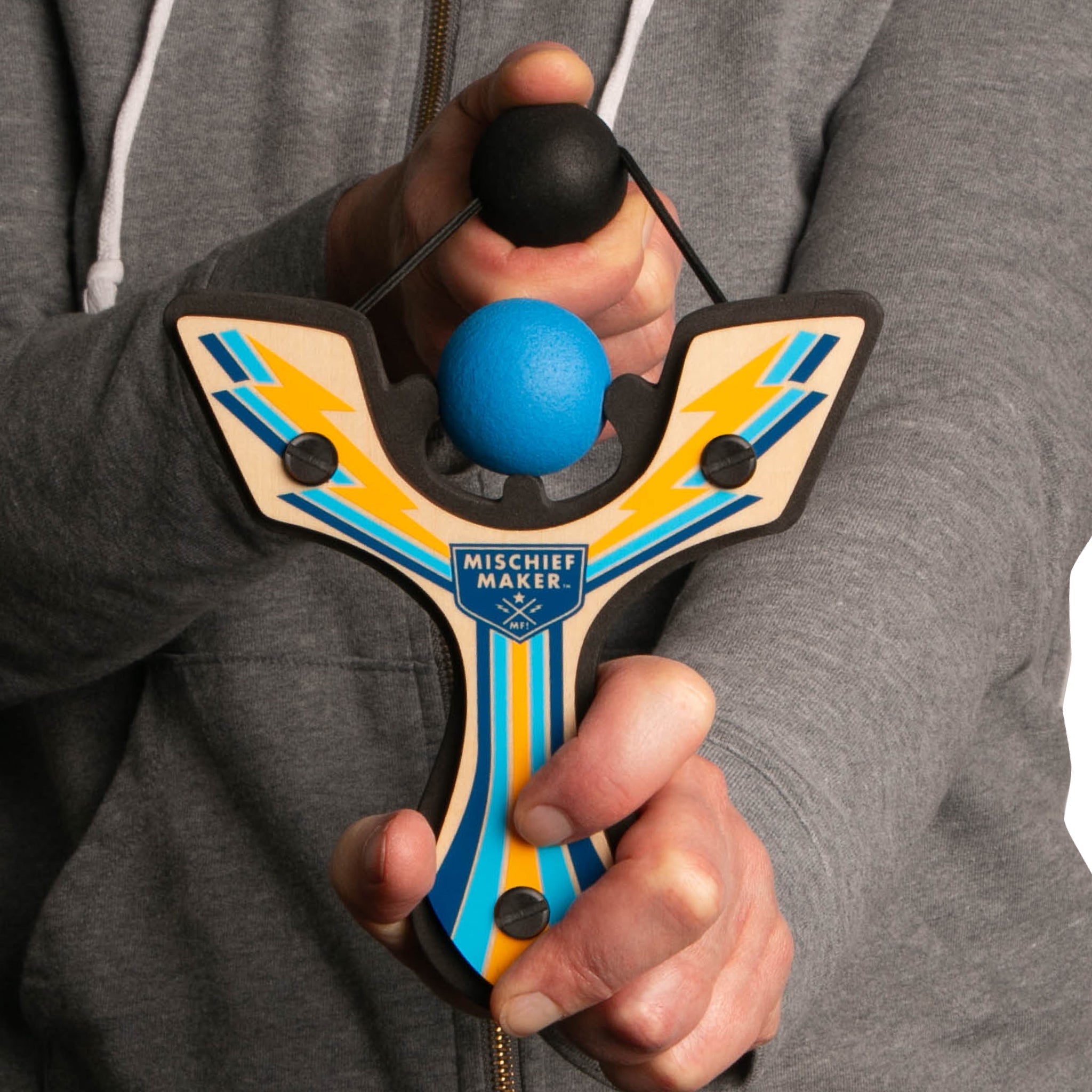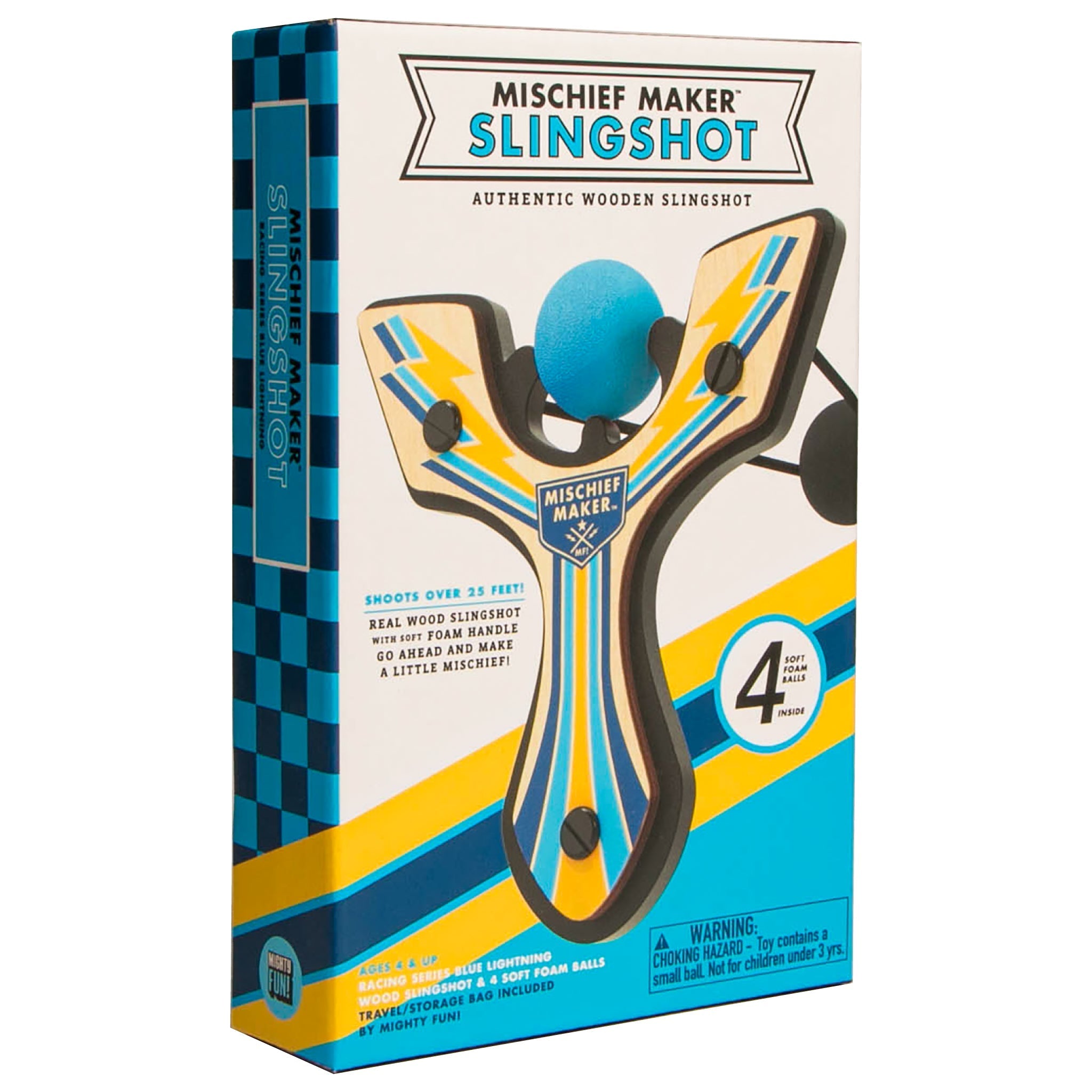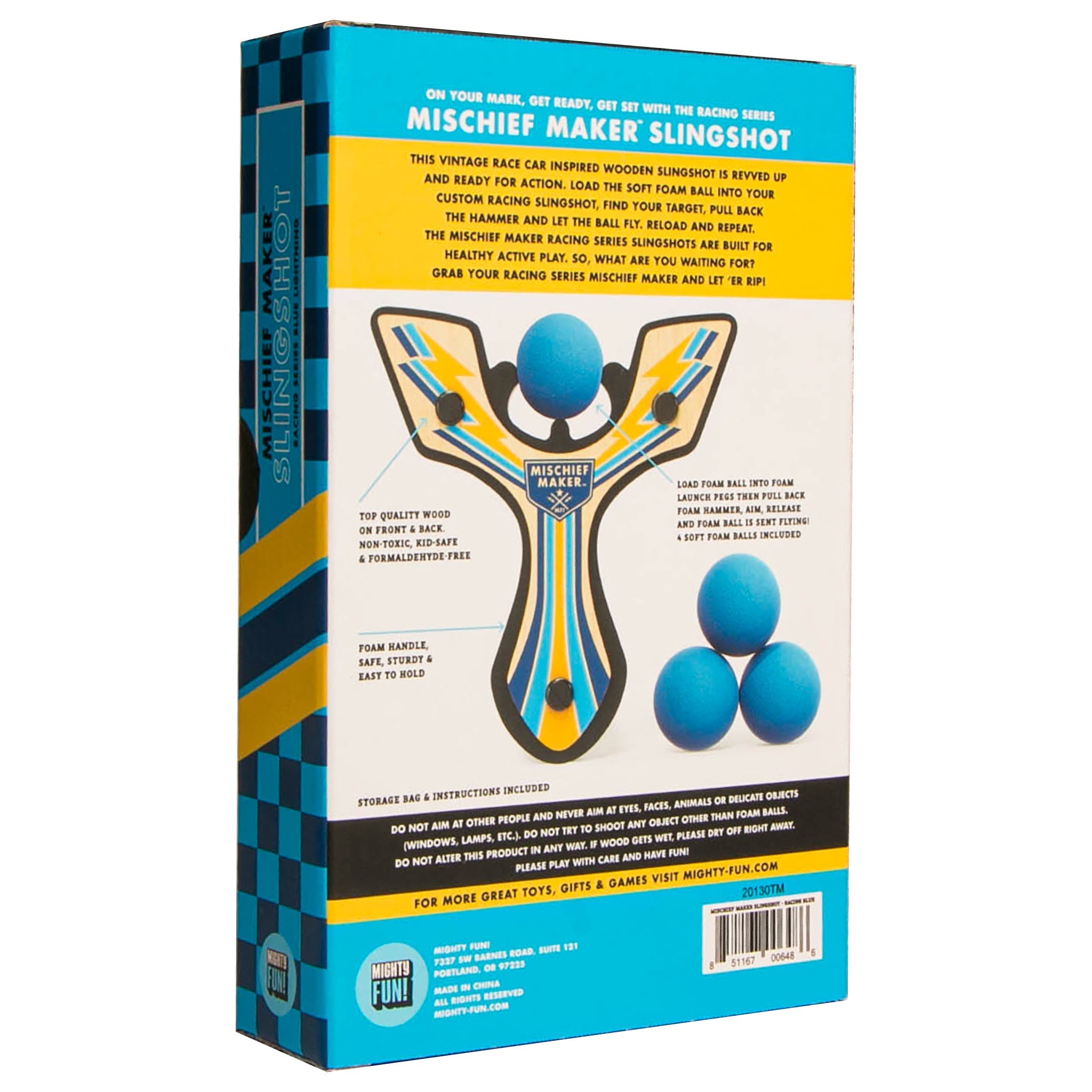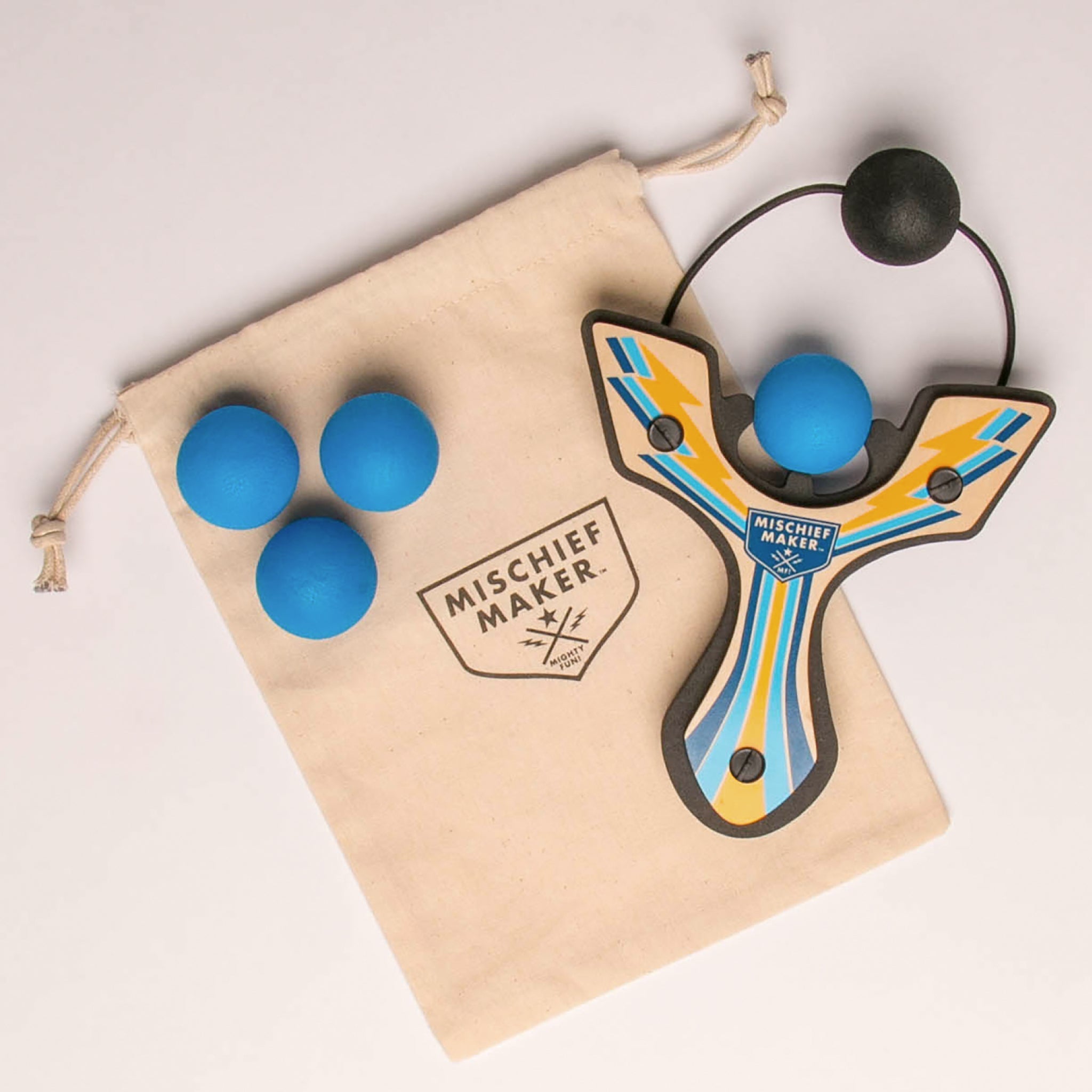 Mischief Maker® Slingshot
Racing Blue Lightning
On your mark, get ready, get set with the Racing Slingshot. This vintage race car inspired wooden slingshot is revved up and ready for action. Load the soft foam ball into your custom racing slingshot, find your target, pull back the hammer and let the ball fly, reload and repeat. Every Mischief Maker is built for healthy active play, so what are you waiting for? Grab your Racing Slingshot and let 'er rip!
Includes: Mischief Maker Slingshot with 4 soft foam balls and a handy storage bag in a beautiful color box. Makes a great gift.
Materials: Made with non toxic, formaldehyde-free wood, and soft EVA foam balls.
Ages: 4+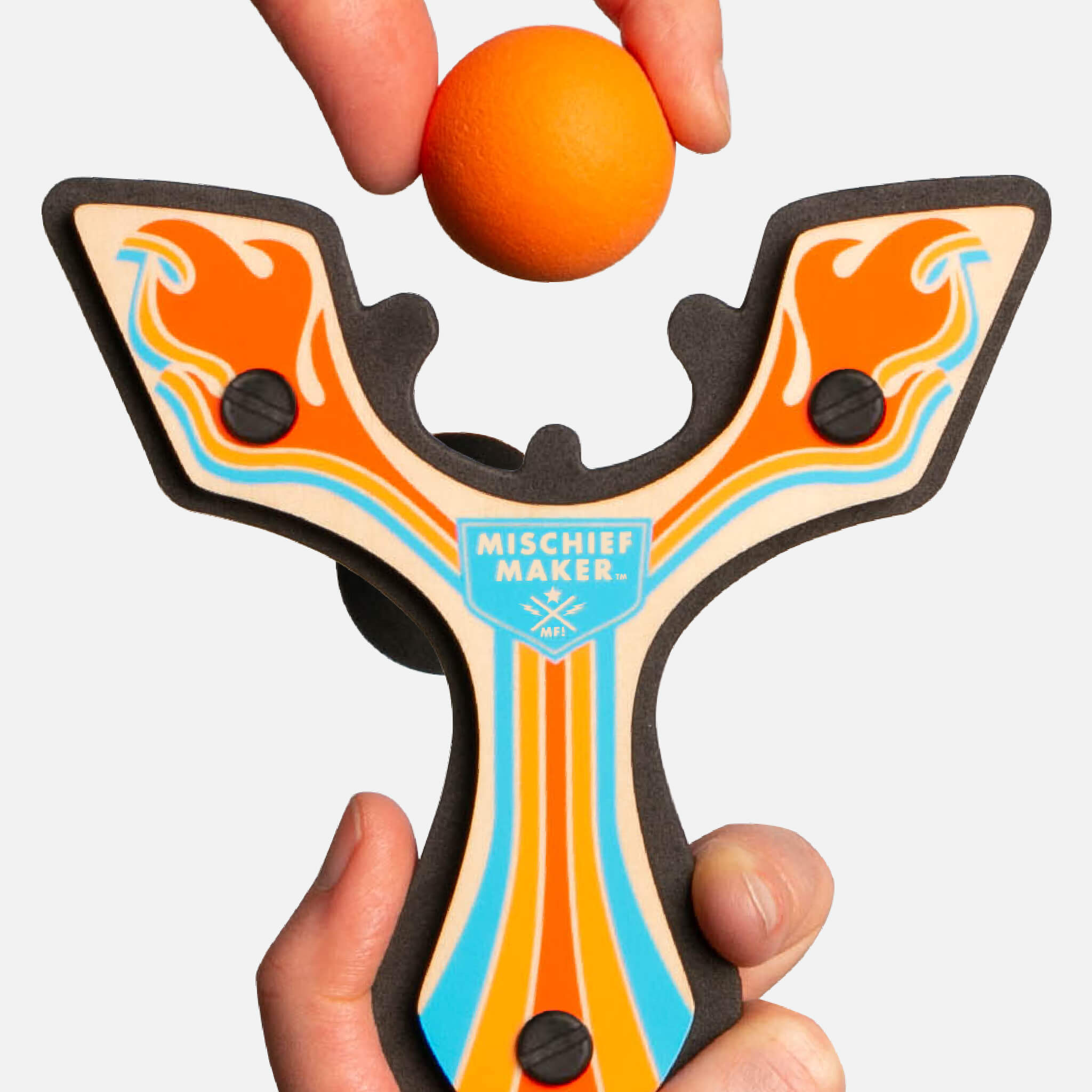 Made from
Non-Toxic Wood
Each slingshot is screen printed in beautiful colors on both the front and the back then finished with a water-based varnish.
Foam Launch Pegs
Holds a soft foam ball securely in place. Allowing you to run around and seek out an unsuspecting target.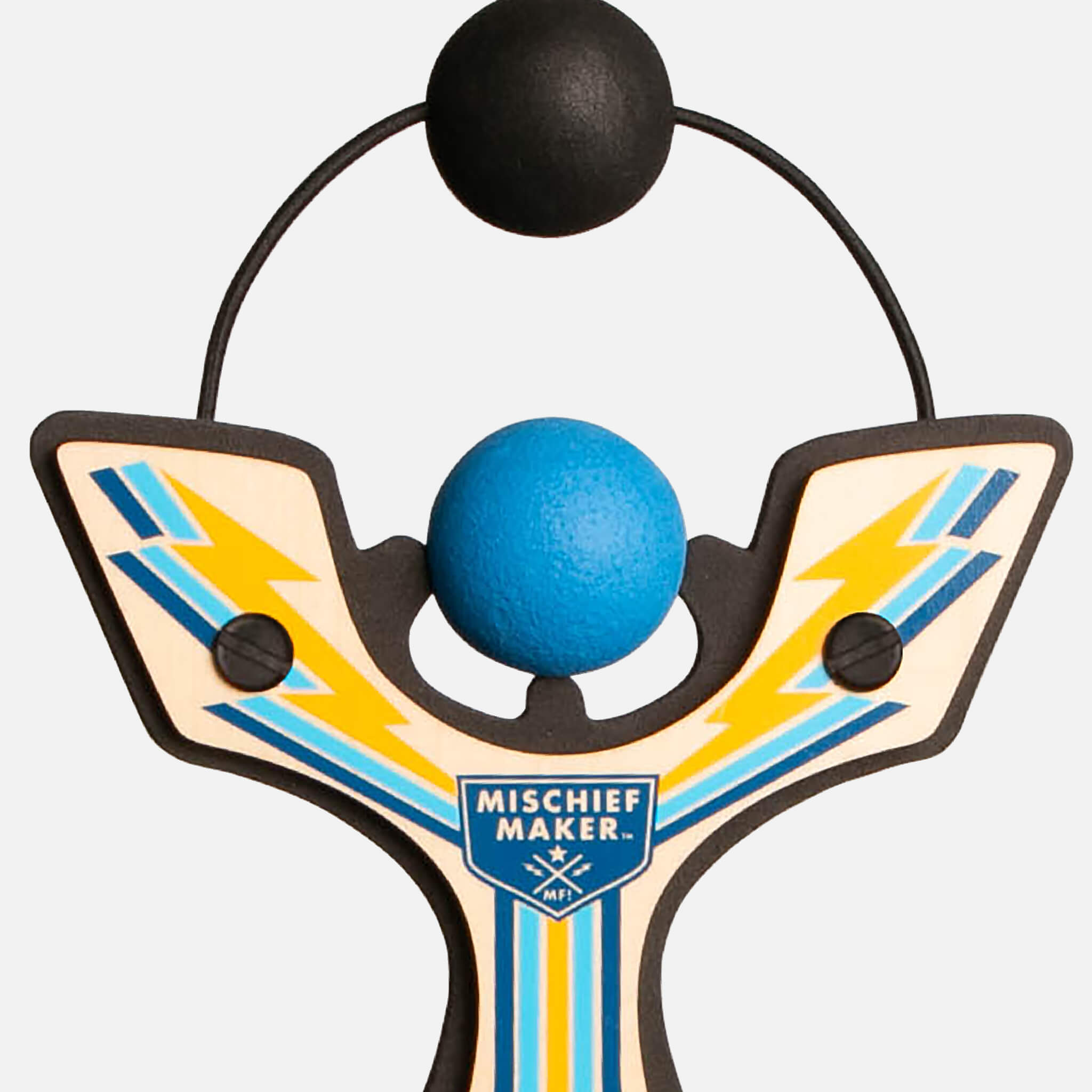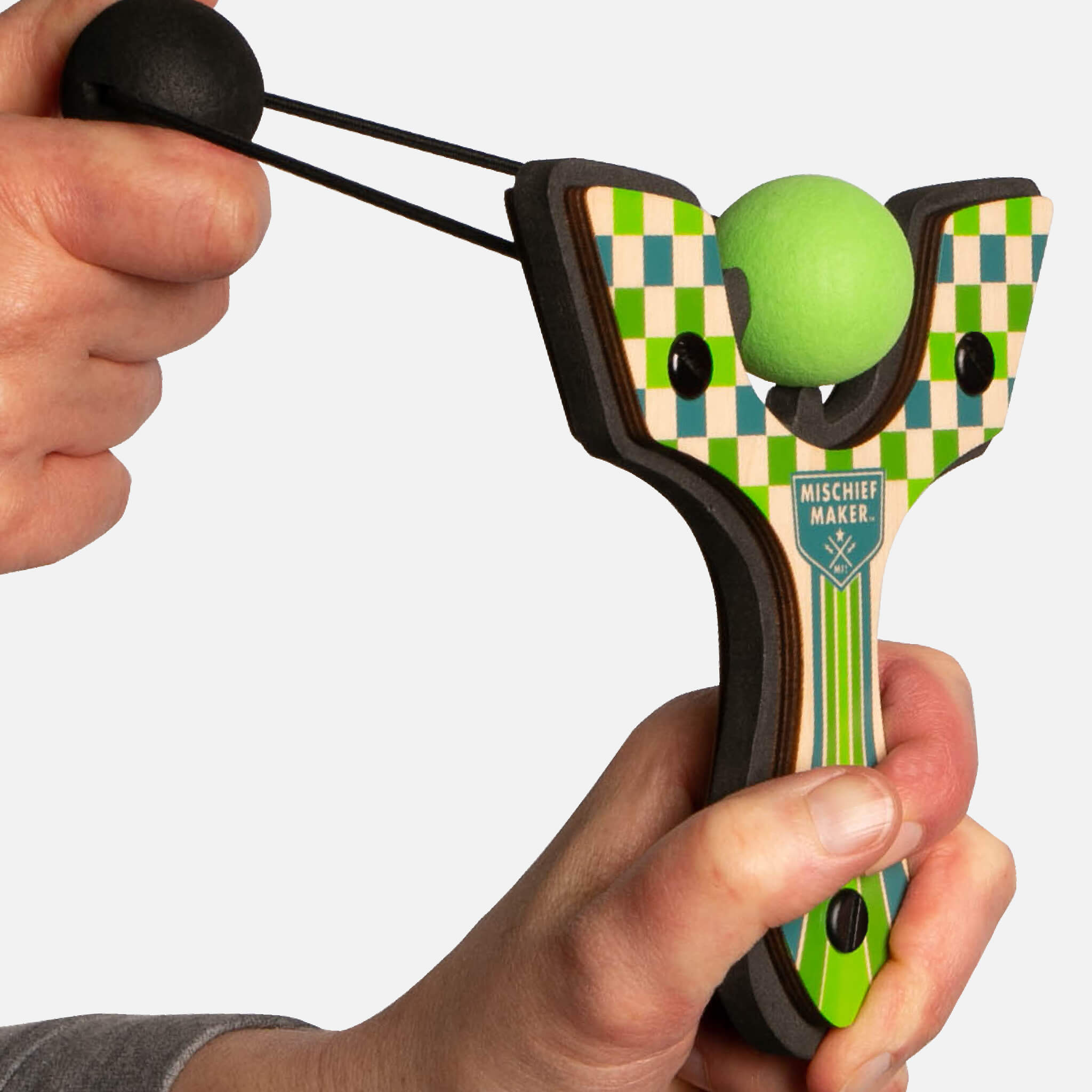 Choose Your Target
Hone in, take aim, pull back the foam hammer and let the ball fly! Reload and repeat for endless hours of fun!
A Drawstring Storage Bag
Comes with each slingshot. Makes cleaning up easy and your slingshot and balls are ready to take on the next adventure.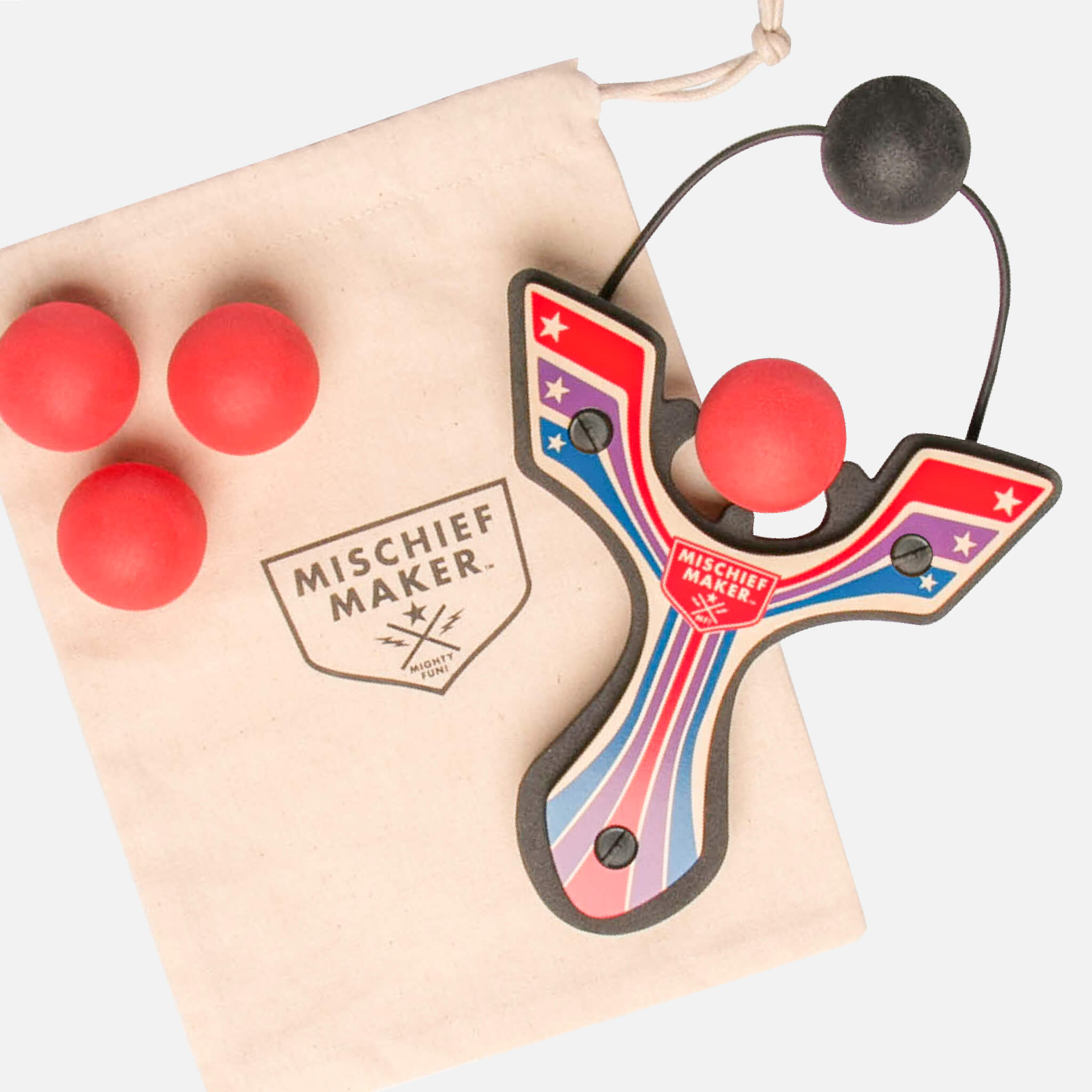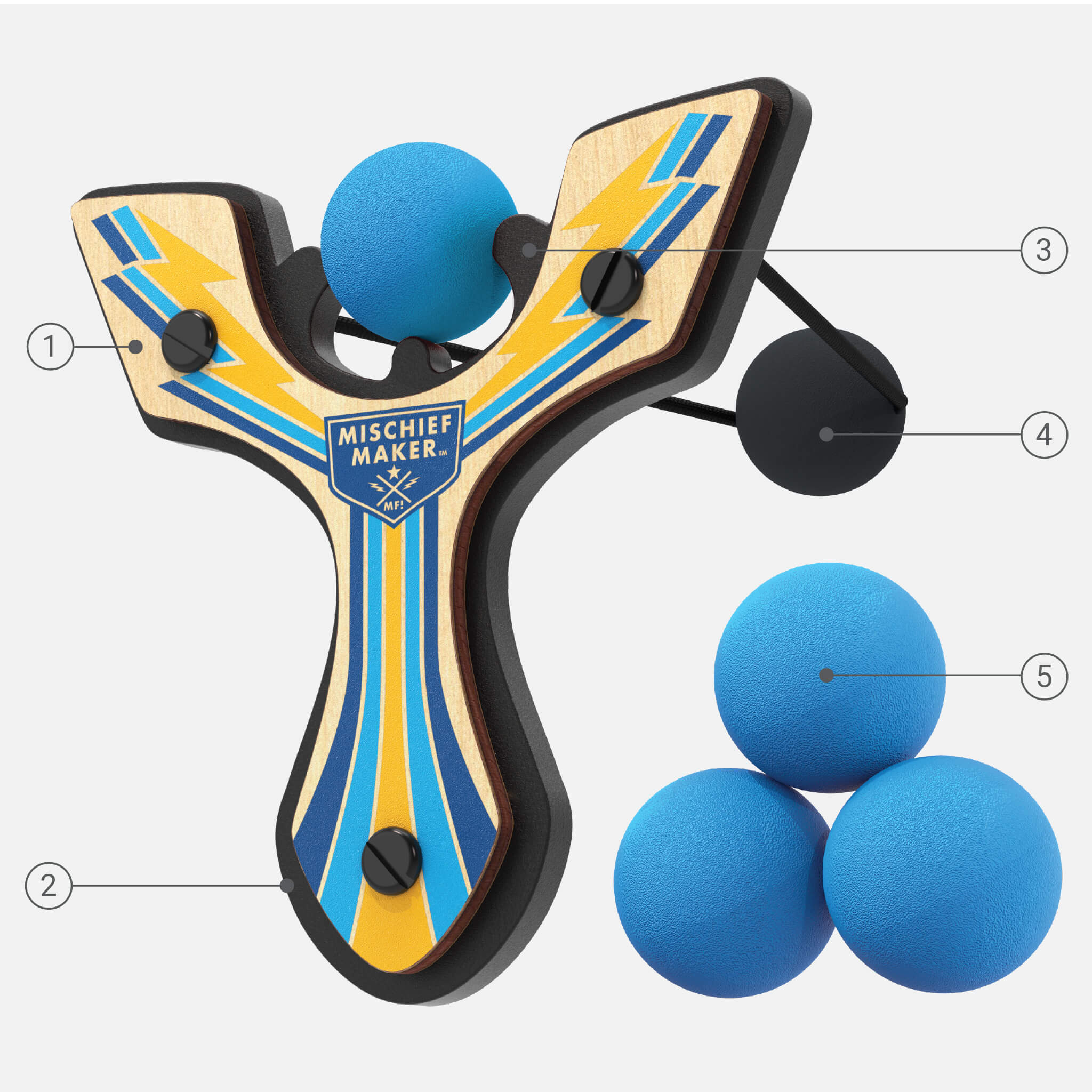 Made with Real Wood
1. Kid-safe, non toxic wood on front and back
2. Soft foam handle that's easy to hold
3. Load ball in the launch pegs
4. Soft foam hammer
5. Four soft foam balls included
Makes a Great Gift
Beautifully packaged in a gift-worthy box. Each slingshot is made from real wood with a unique design that only shoots soft foam balls. Safe to use both indoors and out, parents love Mischief Makers, too.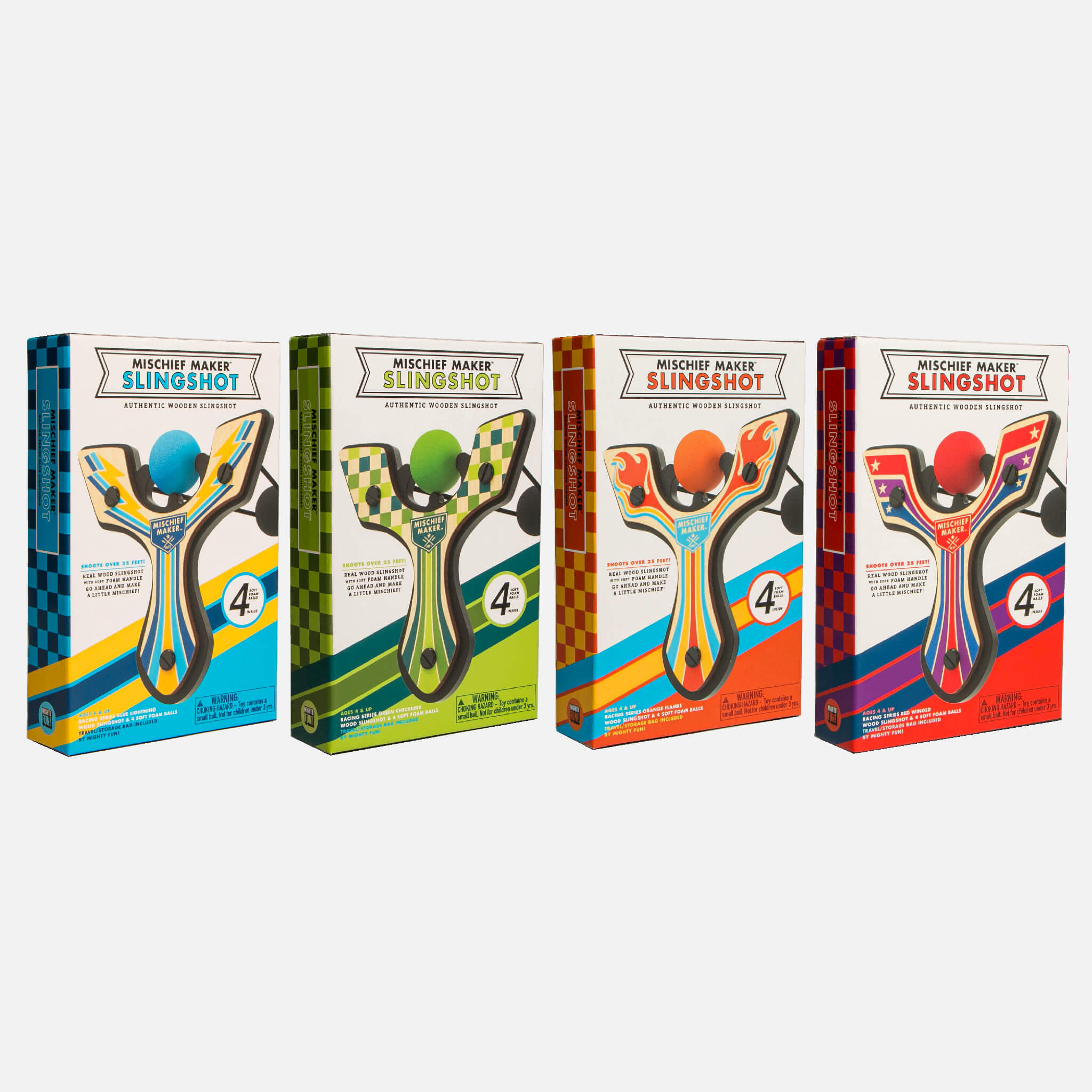 AWESOME PRODUCT !!! A MUST IF YOU HAVE A CAT, OR CATS !!!!!!!!!!
I BOUGHT THIS FOR MY TWO NEW RESCUE KITTIES, MICKEY & MINNIE ~ IT'S NOT LIKE THEY NEEDED TOYS BUT I USED TO MAKE KAT TOYS WITH RUBBER BANDS AND RED FABRIC, THEN GO TO THE TOP OF THE STAIRS AND SHOOT THEM UP IN THE AIR AND MY KAT WOULD SPRING INTO ACTION, CATCHING EACH ONE IN THE AIR ~ I THOUGHT, WHAT IF I GOT A SMALL SLINGSHOT WITH SOFT BALLS AND DID THE SAME ACTION ~ SO, I WENT ON AMAZON AND LO AND BEHOLD THEY HAD DOZENS OF OPTIONS ~ I CHOSE THIS MODEL AND BOUGHT 4 EXTRA BOXES OF COLORED BALLS ~ THEY ARE SO EXCITED ABOUT RUNNING AND LEAPING TO CATCH THESE THAT THEY COME AND SIT IN FRONT OF ME MEOWING TO PLAY, SO I GATHER UP ALL THE BALLS FROM EVERY CORNER OF MY HOUSE AND WE START AGAIN ~ THEY HAVE EVEN LEARNED ON THEIR OWN TO BRING THE BALLS BACK TO ME, NOT EVERY TIME, BUT MAYBE 4 OR 5 OUT OF THE 28 I HAVE ~ THANK YOU FOR THIS PRODUCT !!!!!!!!!!! MMC
So much fun for us all!
While my oldest was having a blast with the rocket my two others, 3 and 5, were thoroughly enjoying the slingshot. They were both able to figure it out and shoot the ball! I was kind of shocked actually that my 3 year old figured it out. They had a lot of fun coming up with targets to shoot at and trying to accurately aim the balls at them. Because of my kid's ages, I was glad the balls were soft so that when they inevitably shot them at each other it didn't hurt. I think you could probably find some weighted balls to use with it if you wanted to as well.
Great kid's toy
Got this for my 5yo nephew's birthday. He loves how simple it is to load and fire, I love that the balls are soft enough not to hurt when he inevitably starts aiming at people :)
Nephew's loved it!
They loved these and after a few weeks they are lost in the house but they did love them!
Fun for kids
My son loves this slingshot! I like that it comes with soft balls to shoot with and a little bag to keep them all together. When it arrived it was nicer than I expected and made out of good material. Overall we are very pleased with this product!