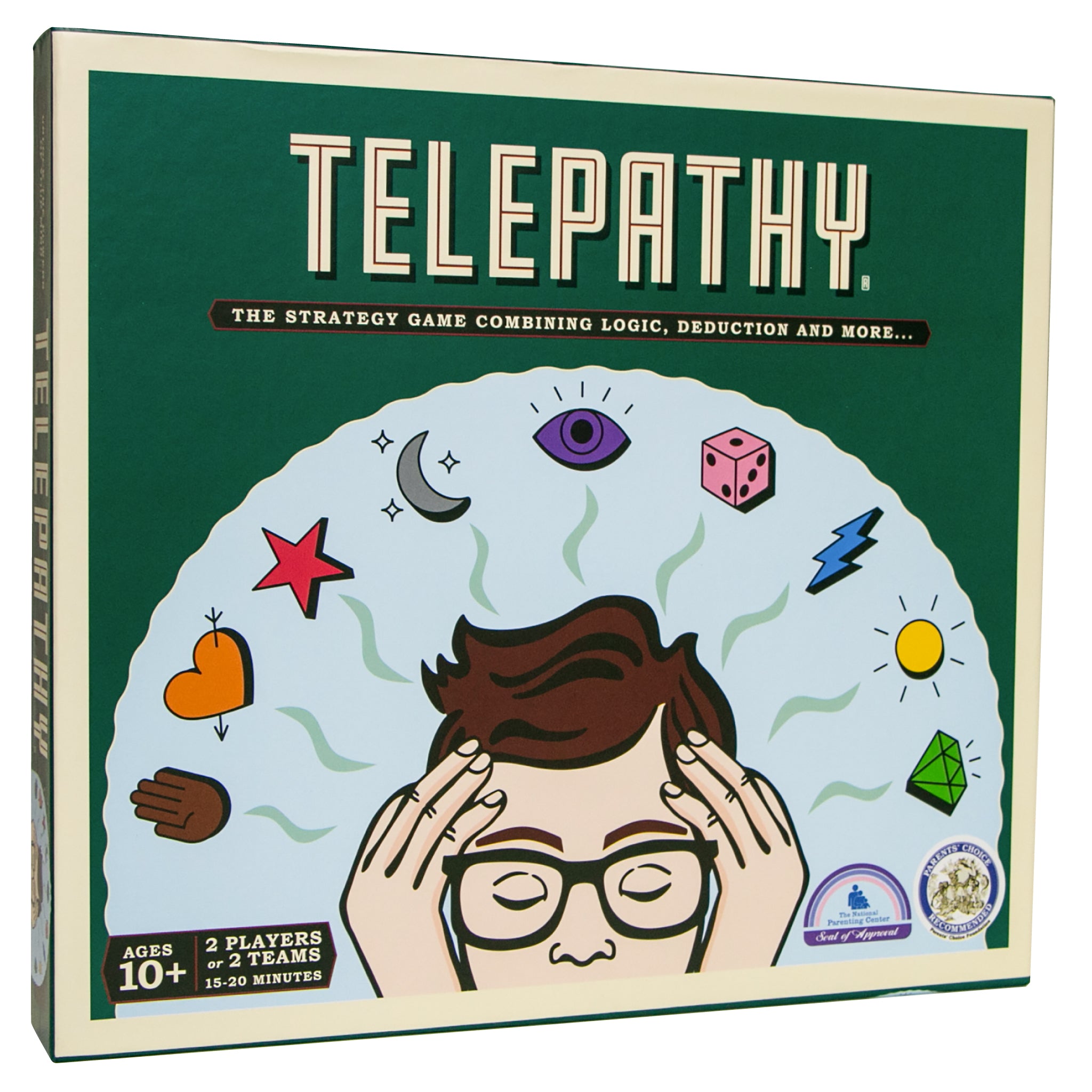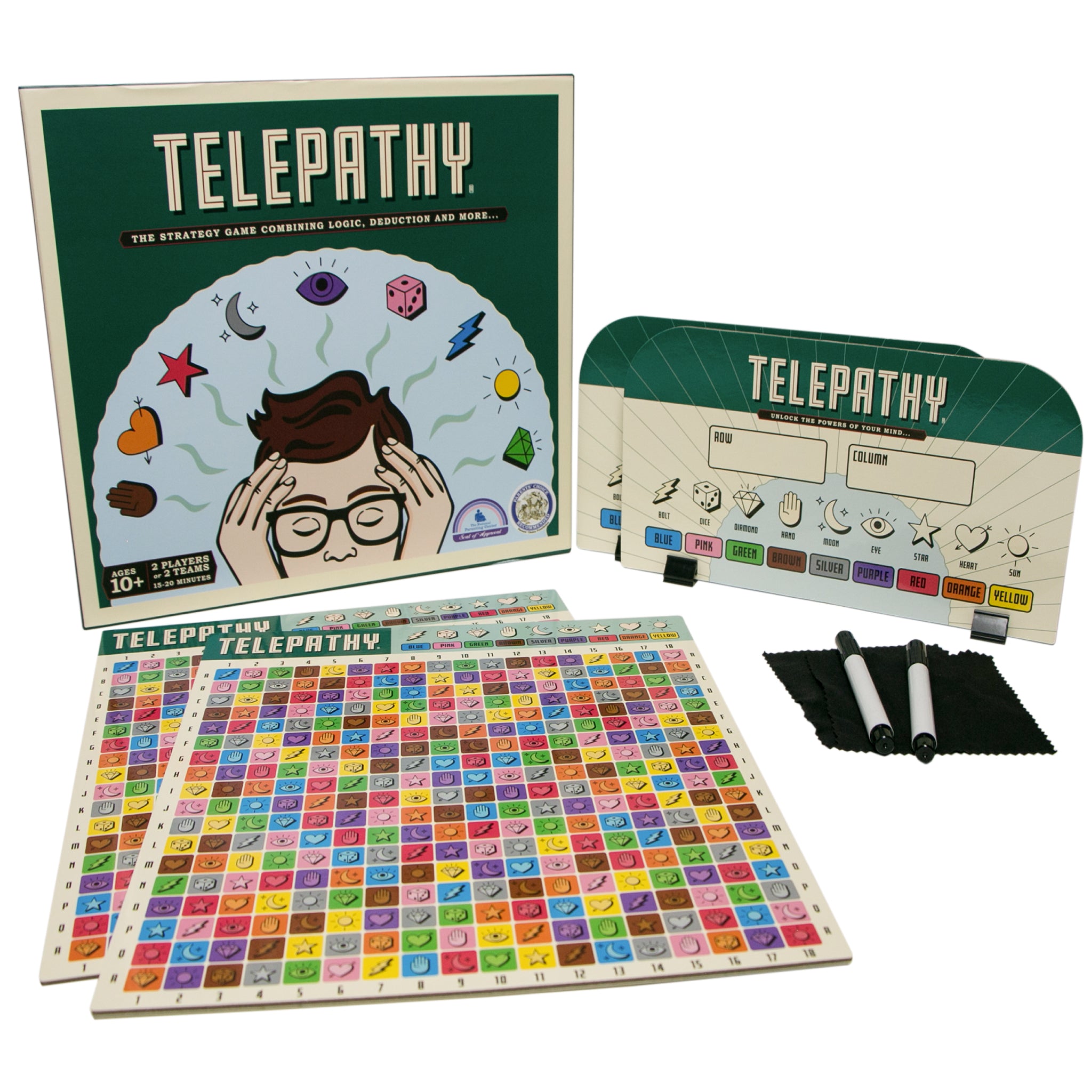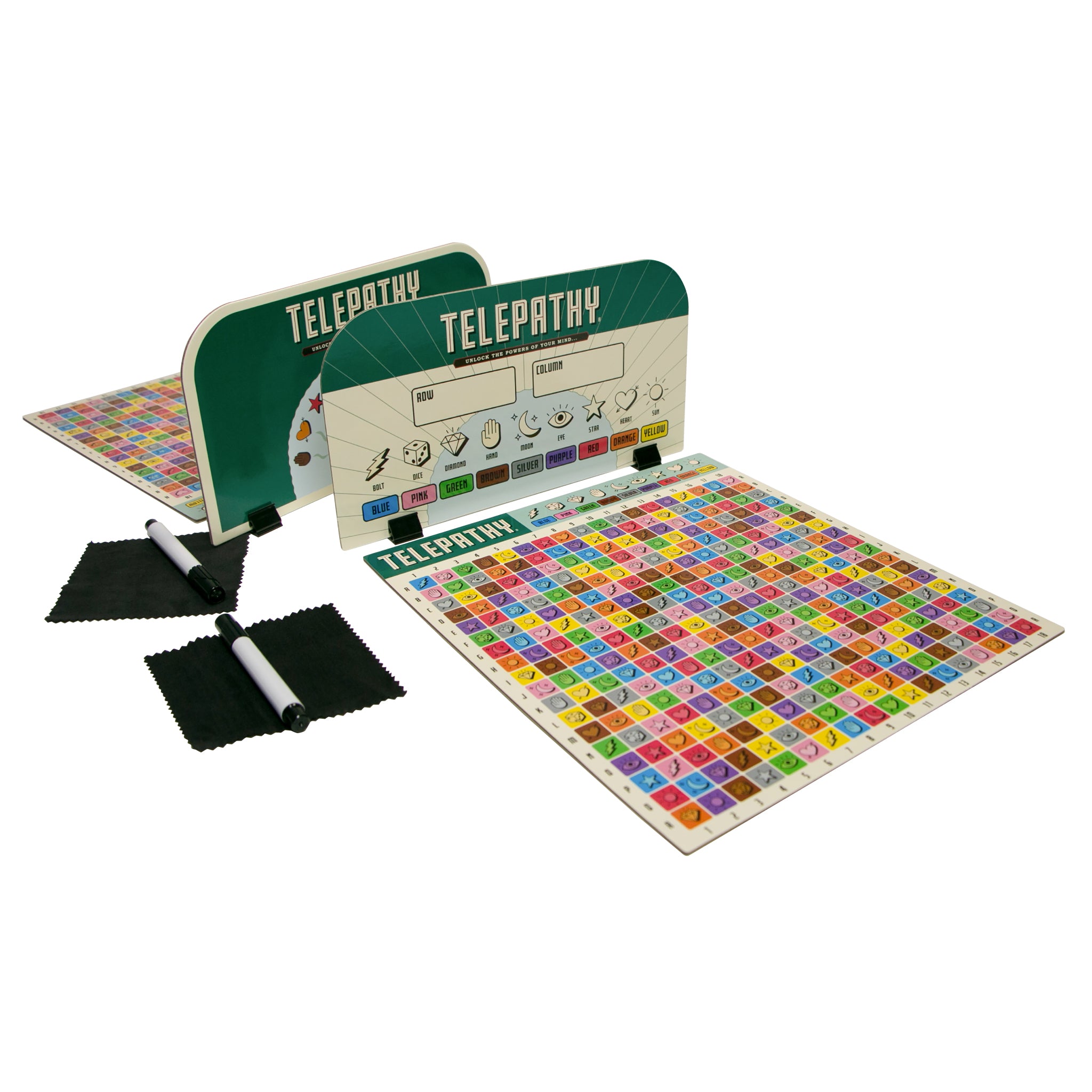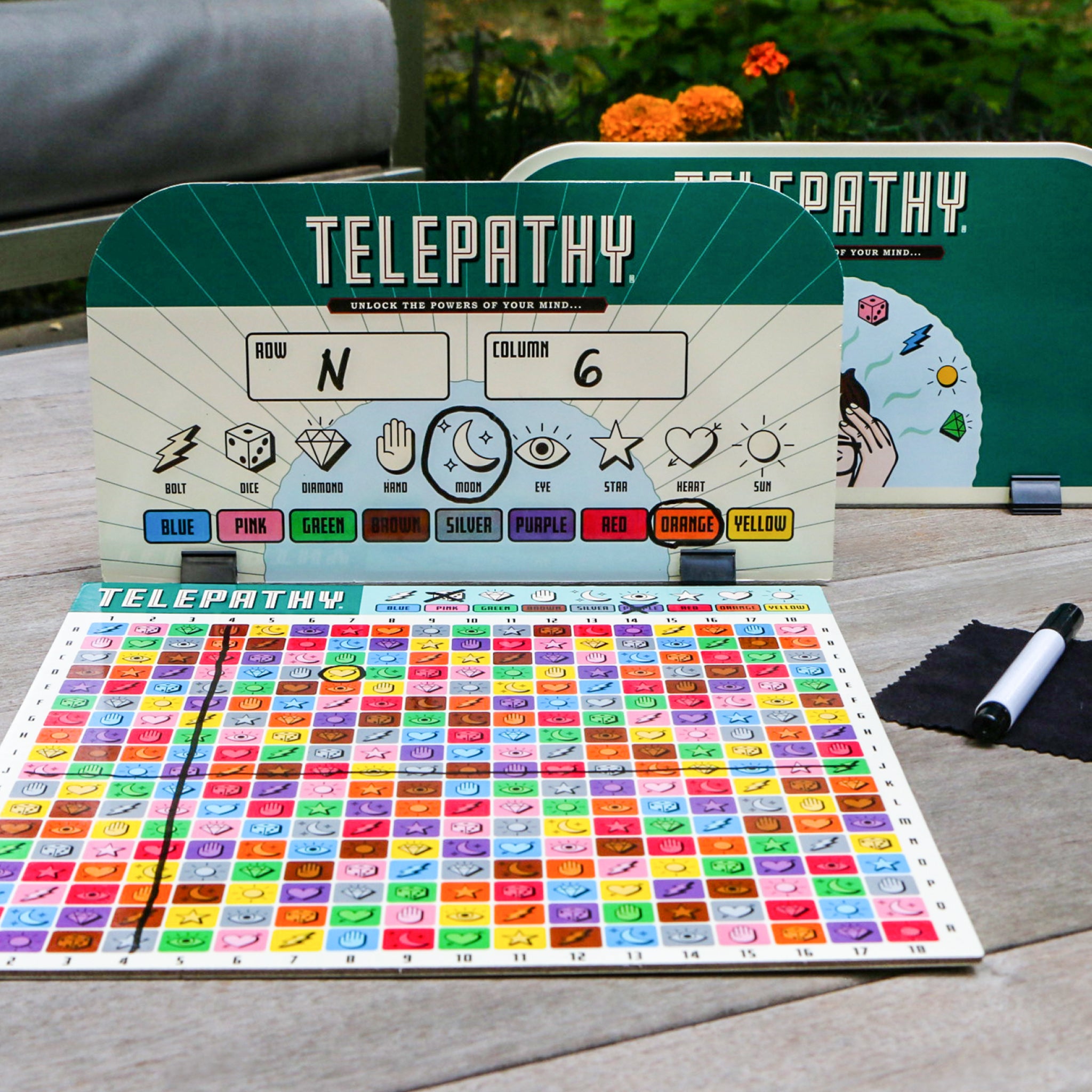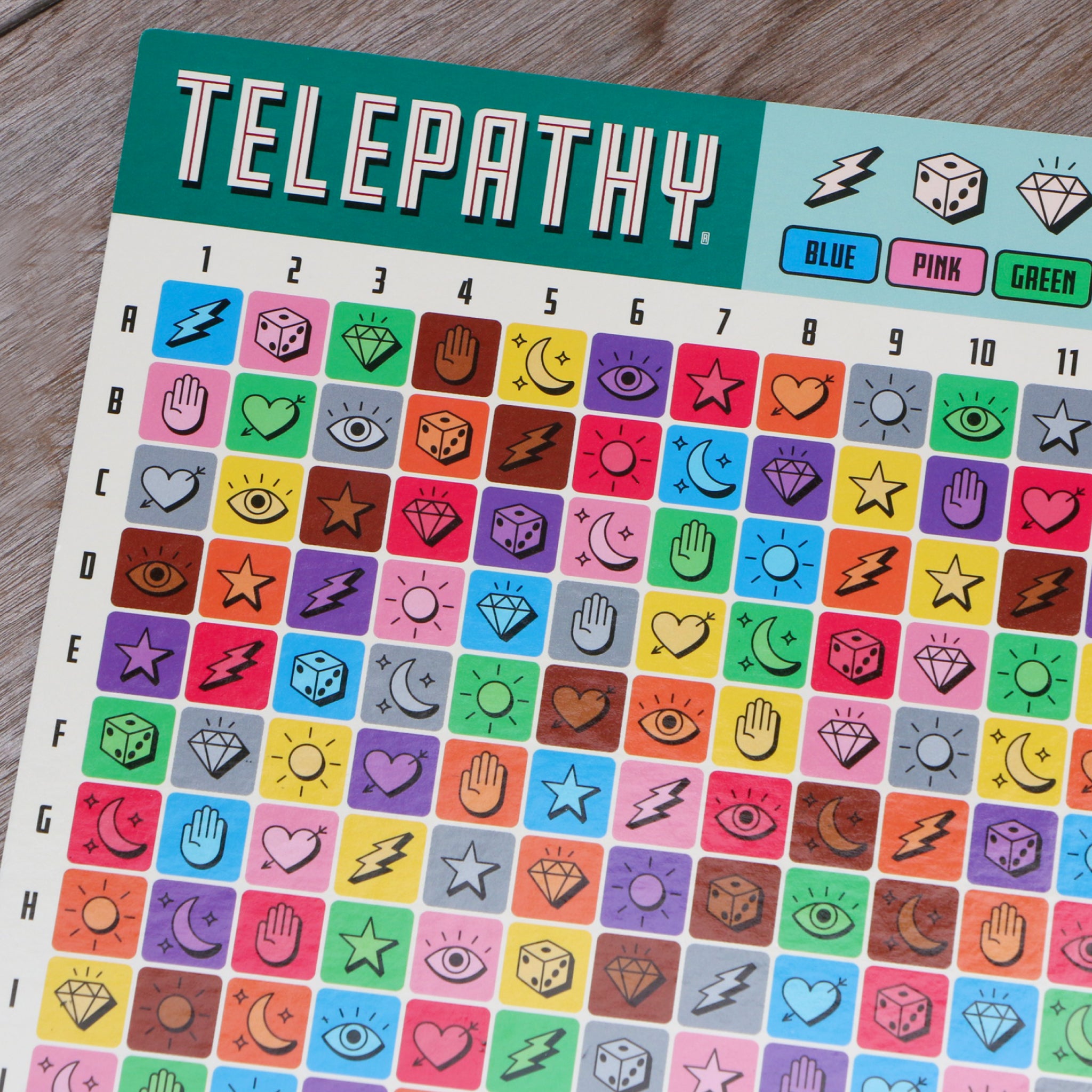 The Strategy Game Combining Logic, Deduction and More..
Master the skills of strategy, logic and deduction as players go head-to-head to see who can be the first to guess their opponent's secret square. Every turn brings you closer to finding the hidden ancient symbol. But watch out! Your opponent may be closer to solving your secret square than you think!!
Includes: 2 Telepathy® grid boards, 2 secrecy shields with stands, 2 dry erase pens, 2 dry erase wipe cloths, rulebook
# of Players: 2 Players of 2 Teams
Game Time: 10-20 Minutes
Ages: 10+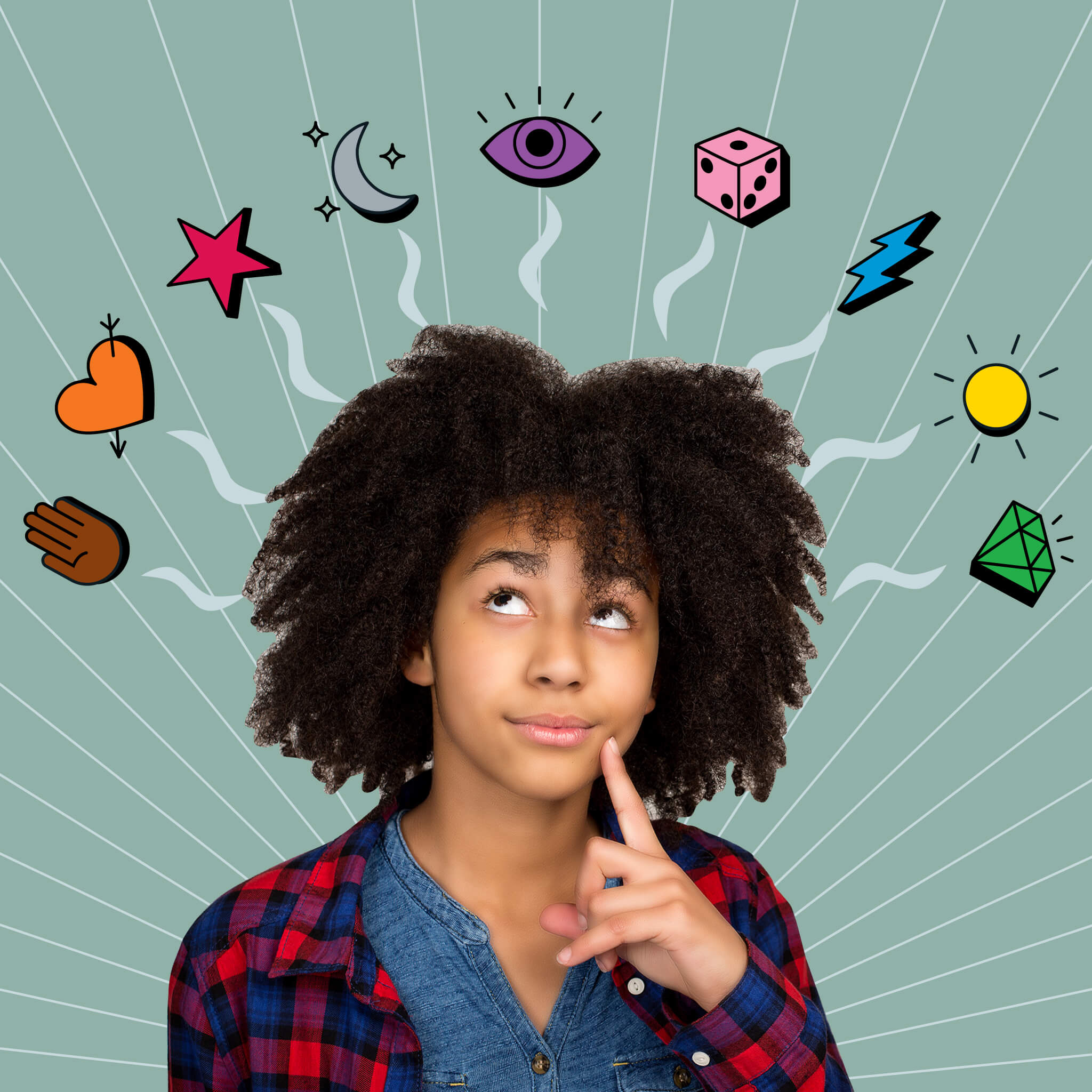 Do You Have Telepathy?
Find out with the spell-binding strategy board game that features exciting back-and-forth action, where suspense builds with every turn to a thrilling finish!
Battleship Meets Suduko
Telepathy® uses strategic thinking, deduction, memory and logic, two players (or teams) race to see who can be the first to correctly guess the opponent's secret square before their's is revealed.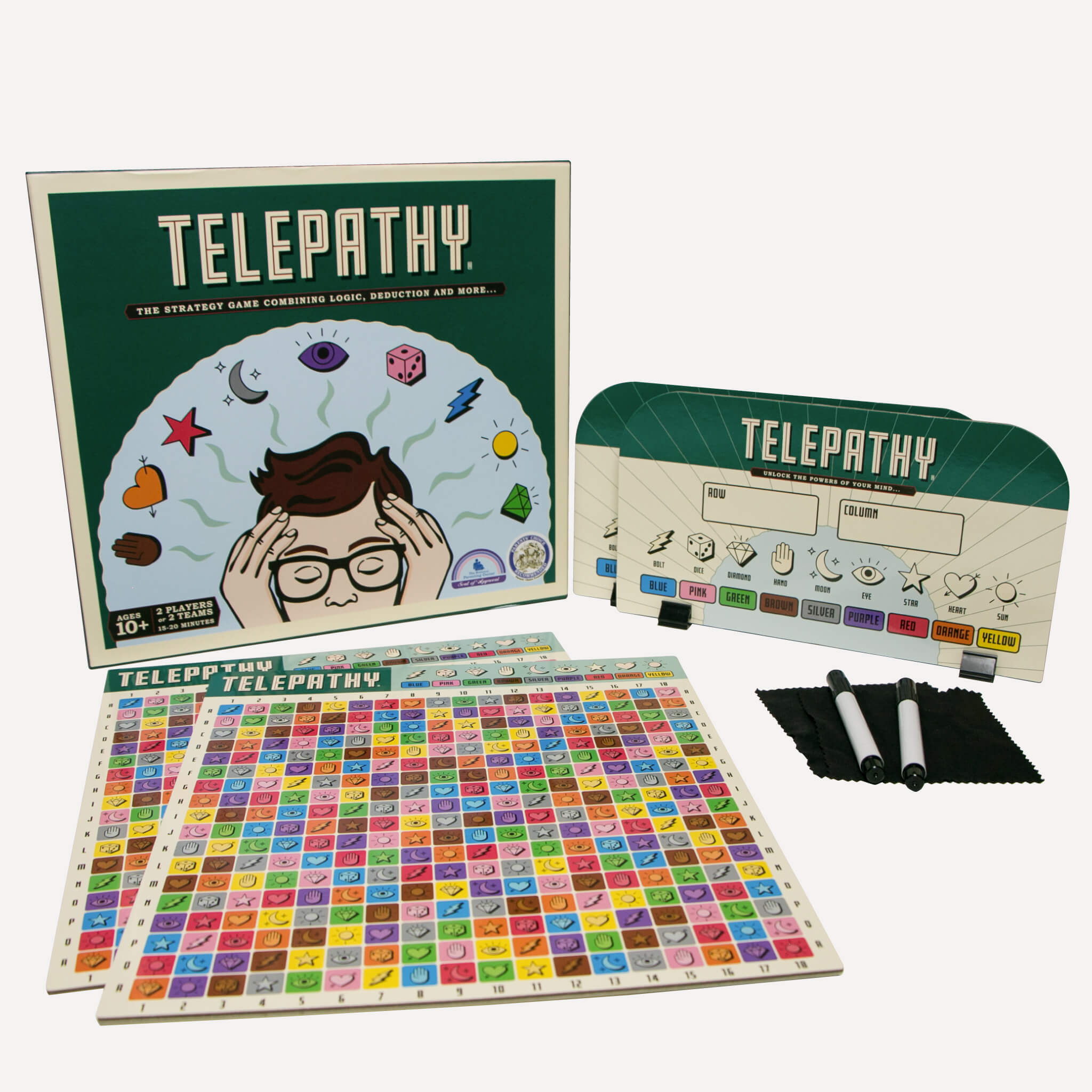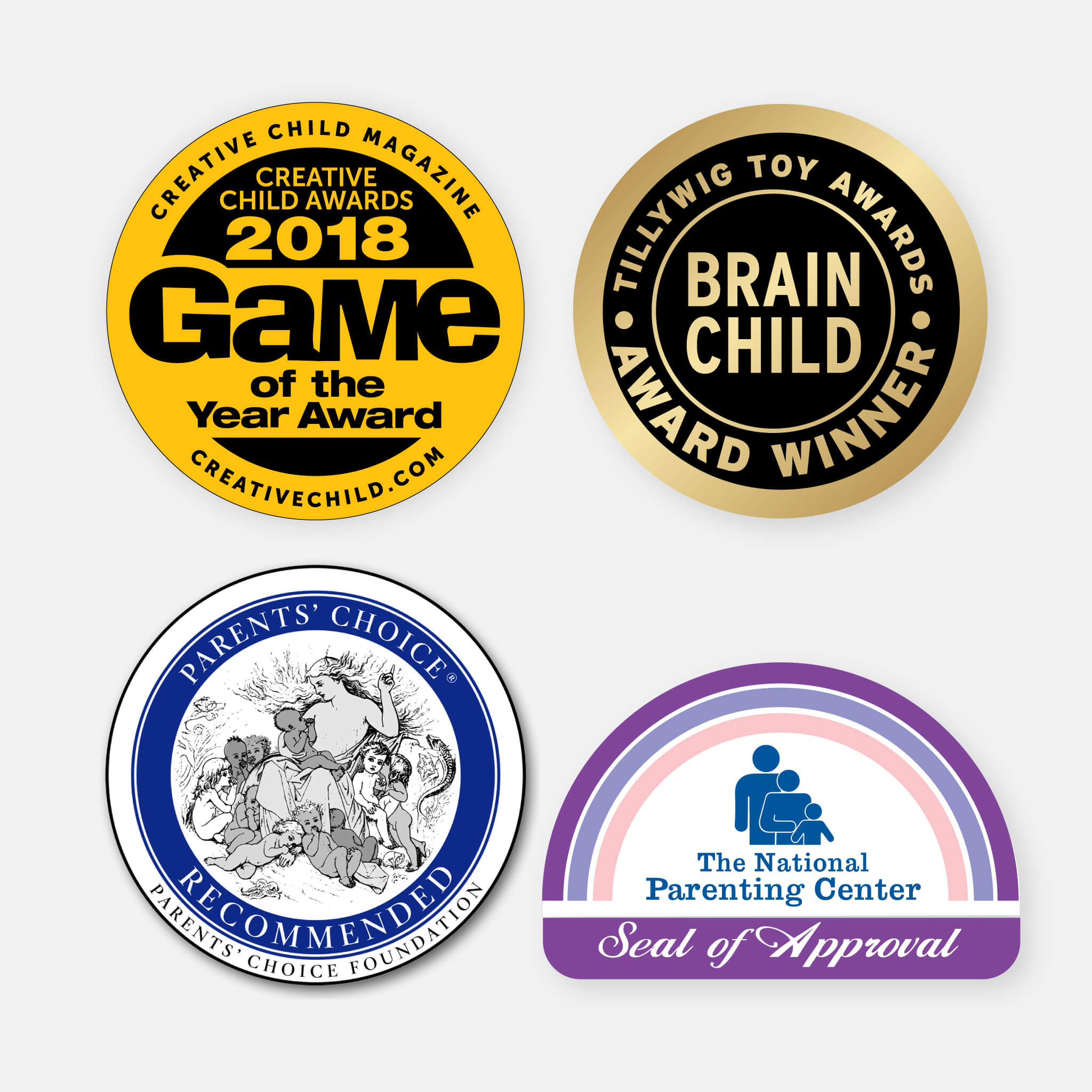 Award-Winning
"Telepathy® is a great two-player deduction game for the whole family. It's a head-to-head challenge we love to play over and over. The dry erase boards make it so simple to throw down challenge after challenge."

-Trent Howell, The Board Game Family
Choose Your Secret Square
Play with 2 players or as a team. Set up the dry erase game board and secrecy shield then use the dry erase marker to select your secret square without your opponent seeing. The included wipe cloth makes clean up easy between games.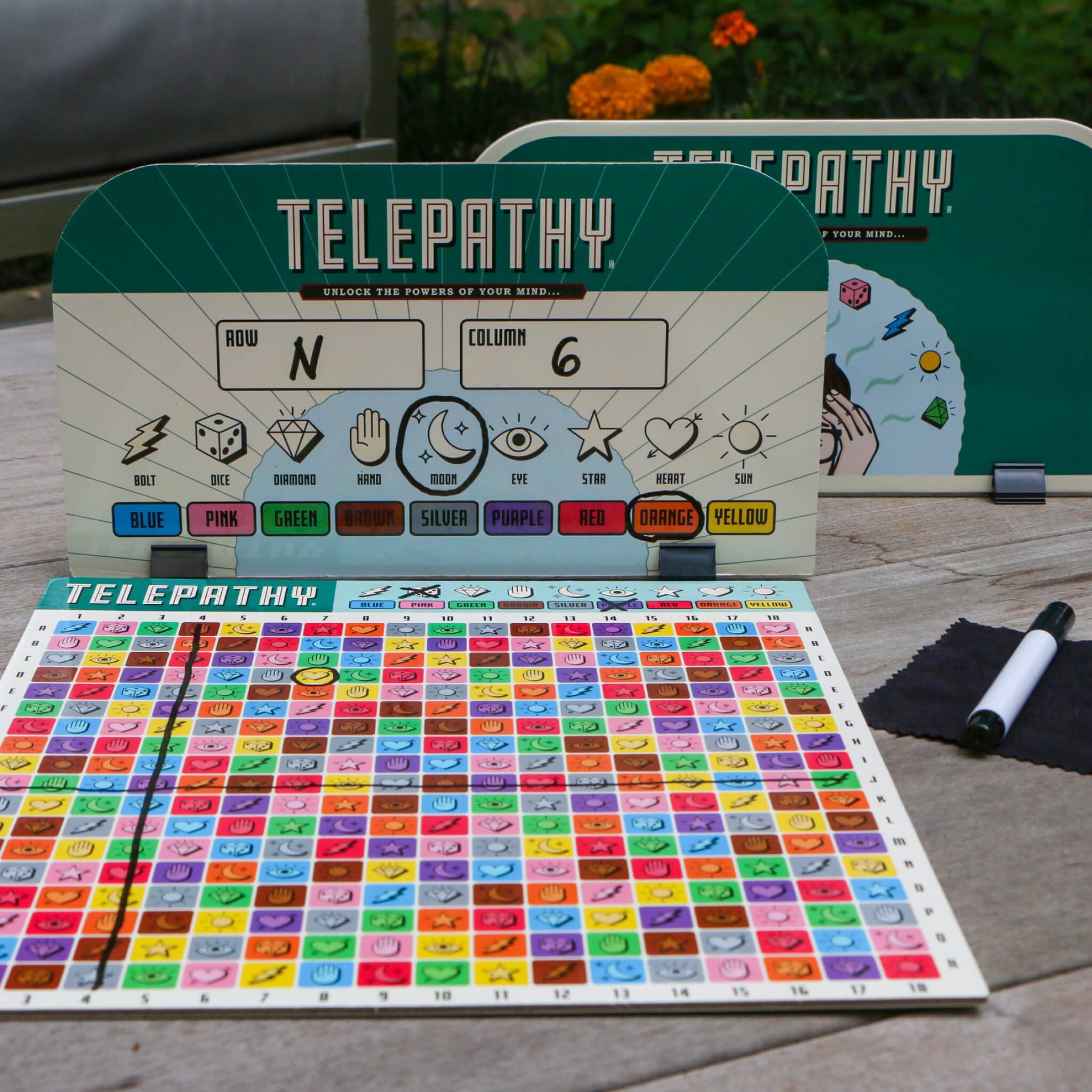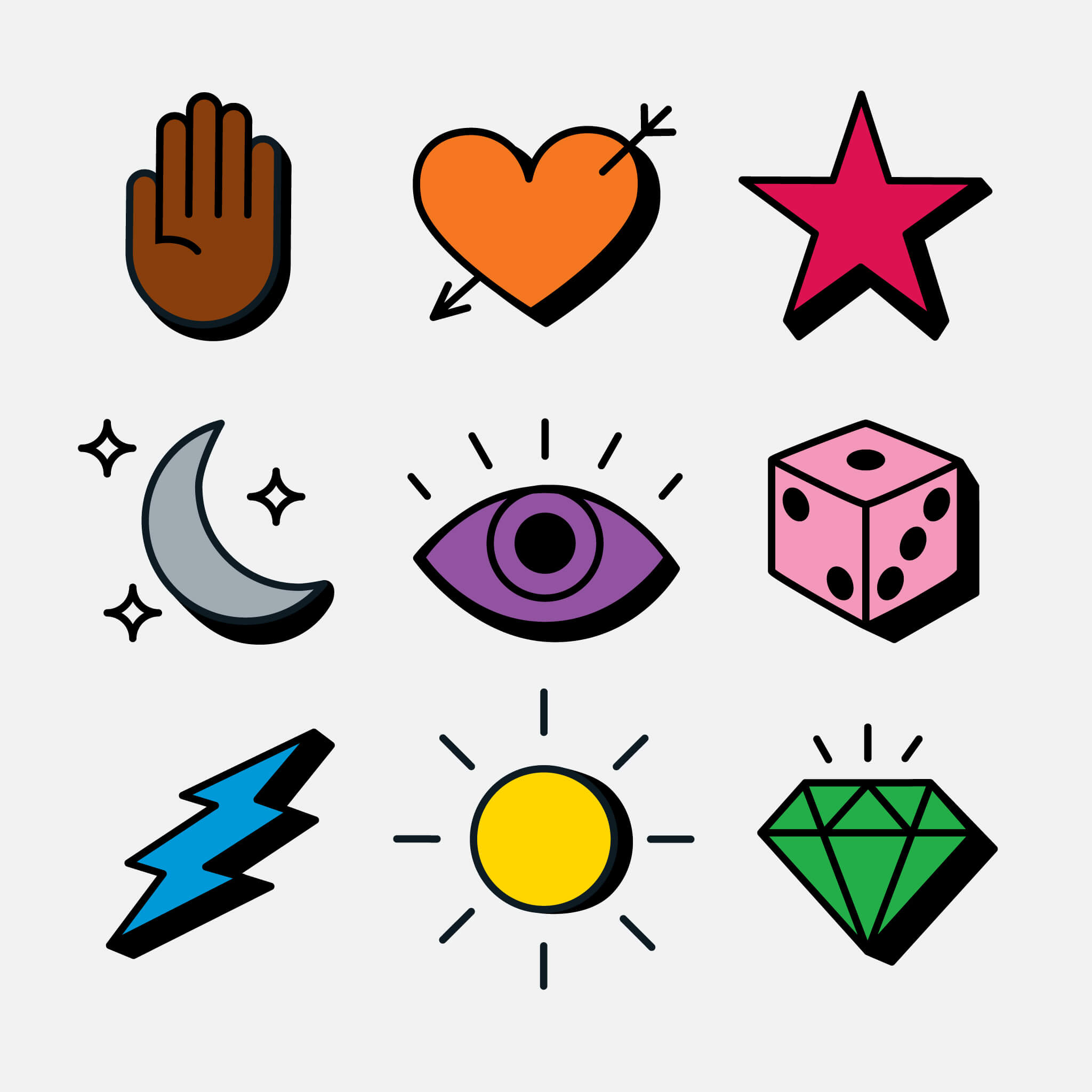 Nine Colors & Symbols
By asking your opponent questions, your objective is to find out information about their secret square then record their answers on your game board.
A Favorite for Over a Decade
After receiving a board game as a gift and being unimpressed, thinking, "I can do better than this," Derek Chinn, in 2008, set about to create his own game. After countless hours of hard work, prototyping and play testing, Telepathy® was released, quickly becoming a favorite within the game-playing community.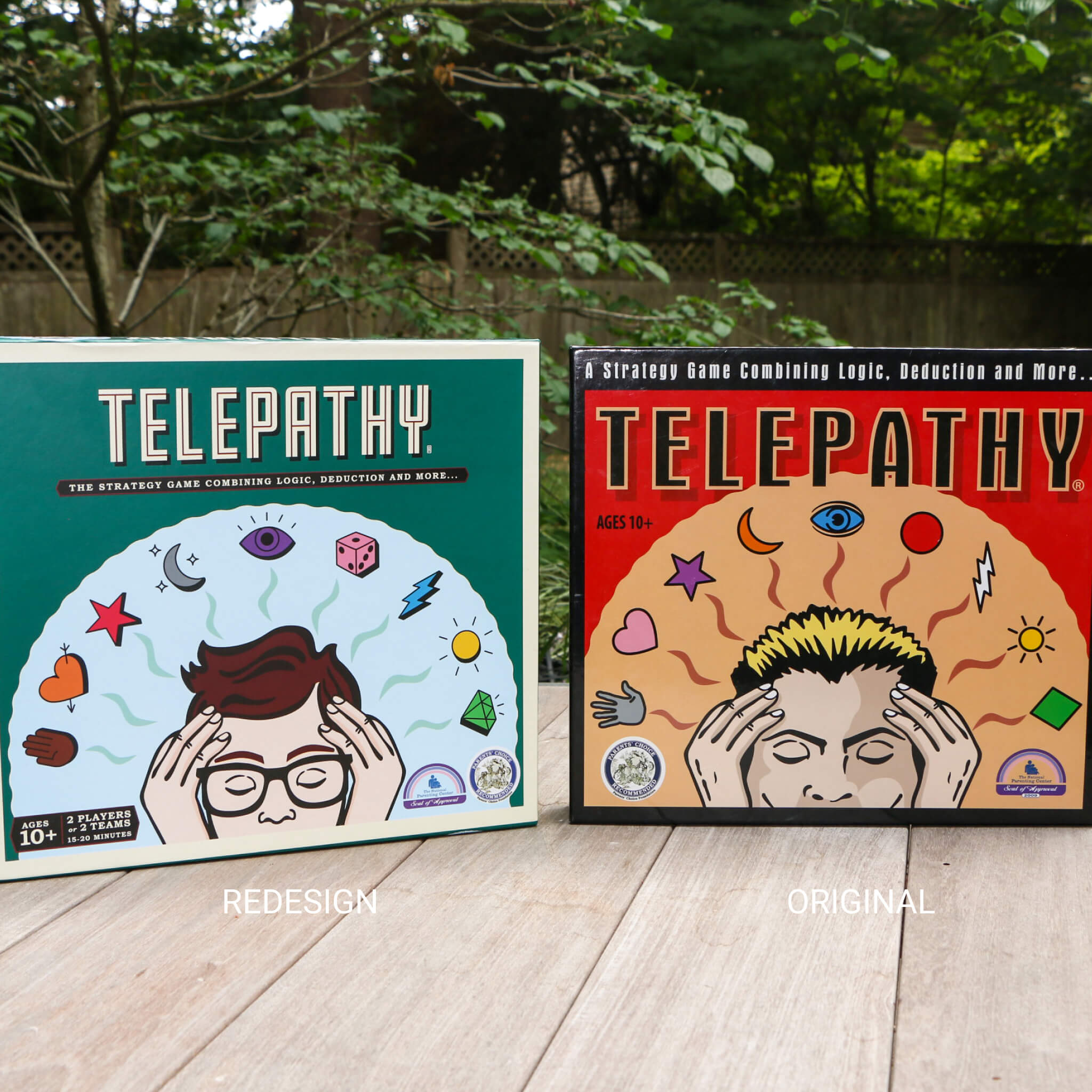 We're hooked!
So fun and simple and almost addictive! Both my husband and my 24-year old asked me to play yesterday. It feels like a combination of Master Mind, Battleship, and Guess Who. But better than all 3. We really enjoy this 2-person (or 2-team) game.
Cool easy game
It's a good game. Easy to play
Teens and Adults love - like Battleships with a great twist
Teens and Adults love - like Battleships with a great twist. Has a feeling of Clue and Suspicion too where you are asking questions using deductive reasoning to guess your opponent's square. Not fun at all though to play with someone who doesn't fully understand and unintentionally answers questions incorrectly.
Amazing, fun and exciting
Not much telepathy involved
It is more a game of strategy than telepathy. Not what I had hoped.