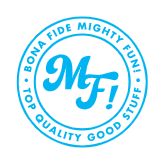 Looking for unique,
top quality toys and games?
You've come to the right place.
We're Mighty Fun! We make cool products that promote human-powered active & healthy play. We're glad you're here, let's have some fun!
Top Sellers for Human-Powered Play
(Human-Powered Play): Pure interactive play; fun, age-appropriate, no plug-in or batteries required.
Mischief Maker Slingshots
Your authentic wooden slingshot. The kind of toy that brings out the kid in all of us. Choose your favorite Classic or Lil Monster.
Brings the adventure indoors; turning every window, mirror and shiny surface into a potential target.
Brain Freeze and Telepathy are your go-to back-and-forth strategy games that teach logic and deduction.
You can feel good about getting or giving Mighty Fun! Everything we make is designed to be fun first and foremost.